Food hall trend reaches Santa Fe with Chomp, set to open this month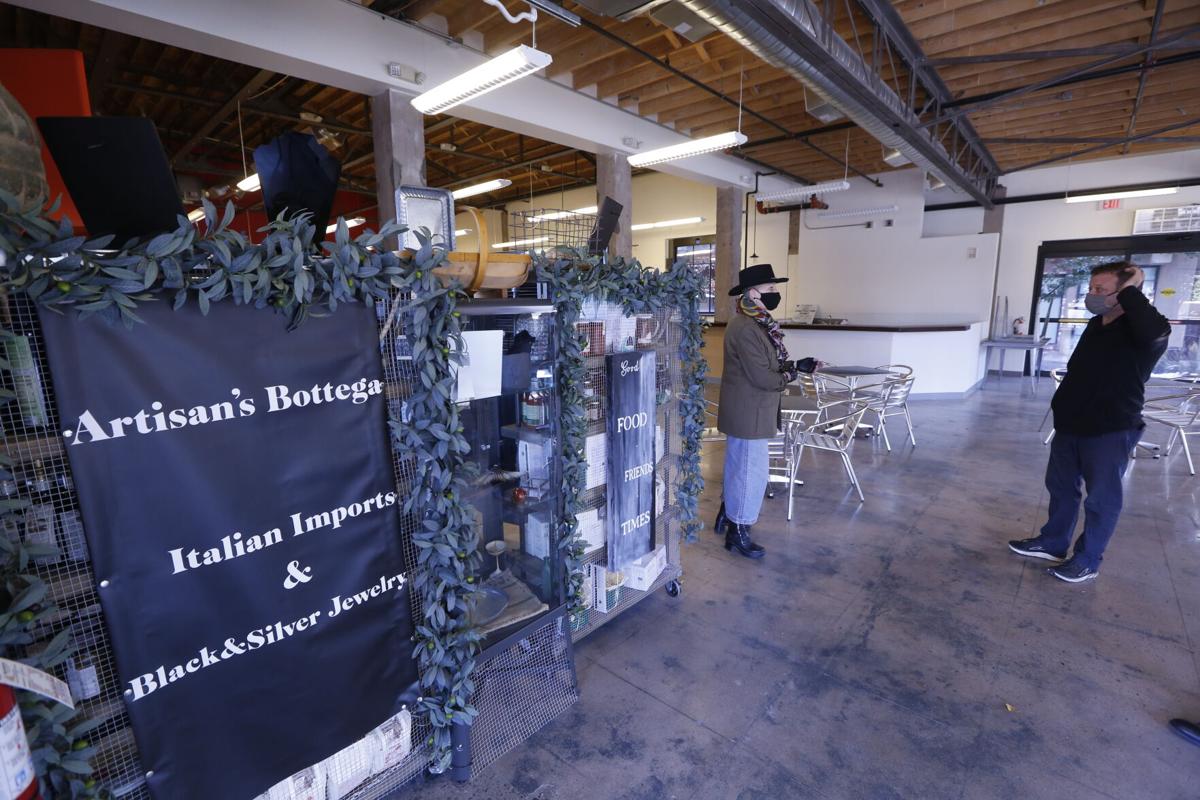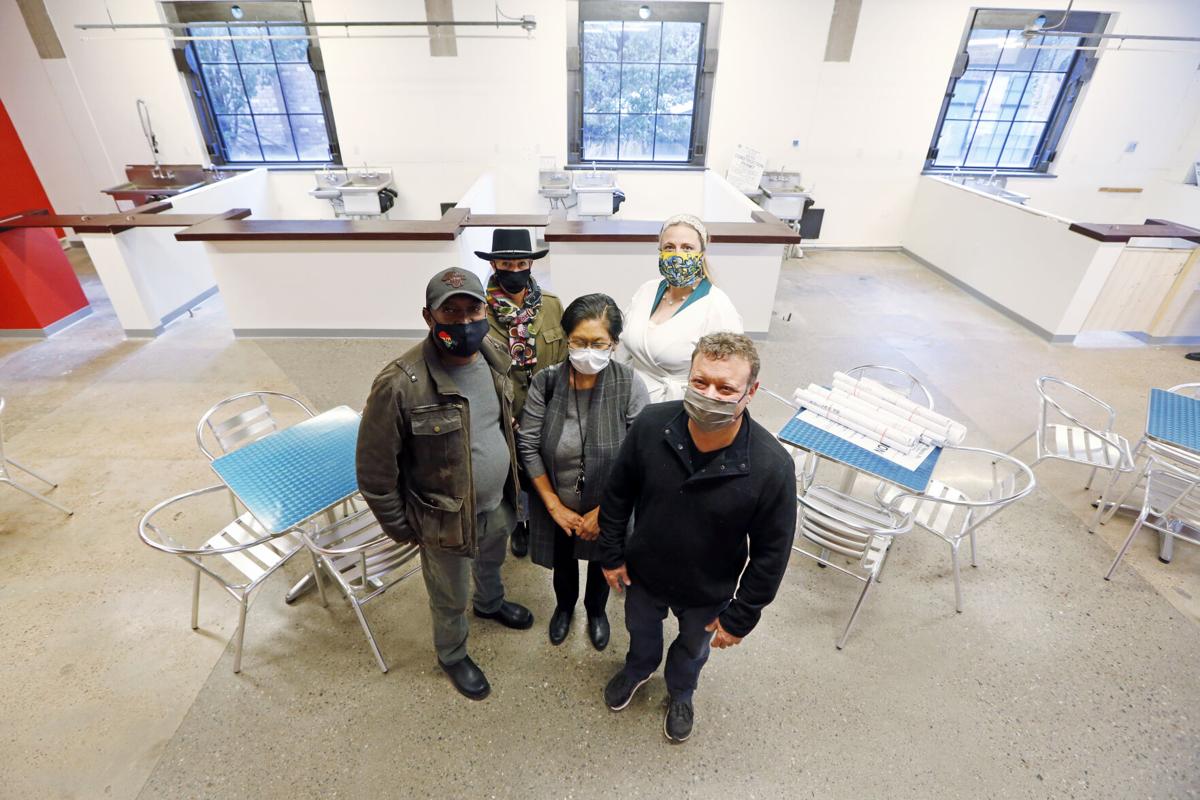 Food halls with artisan food vendors were booming nationwide before the world hit the coronavirus wall in mid-March.
The food hall premise involves large crowds of people sampling multiple food offerings and heartily mingling. Not exactly a COVID-19-friendly concept at first glance.
Yet food halls are emerging as an answer to the post-pandemic dilemma of what will be left of the restaurant world.
Some 80 percent of food halls that existed pre-COVID-19 have reopened in some manner, and the 20 percent that haven't are likely within the shadow of vacant office towers, said Phil Colicchio, a food hall authority at commercial real estate titan Cushman & Wakefield.
Food halls are opening this month amid the pandemic, including Chomp at 505 Cerrillos Road in the Luna Santa Fe center, across the courtyard from Radish & Rye.
Chomp will be the first food hall in Santa Fe and the second in New Mexico behind Sawmill Market, which opened in March in Albuquerque.
Luna Santa Fe developer Ken Joseph thought it would open in March, then June and now permits are finally in place to welcome the public sometime in mid-November. The Chomp food hall has been on Joseph's mind since Talin Market departed the same space in February 2018, back when Cushman & Wakefield counted only 150 food halls in America, contrasting with today's tally of 240 with another 200 in development.
"Most [of] the vendors stuck with me for almost two years," Joseph said. "Each of them has a following in their own right."
Chomp will have a mix of offerings, emblematic of the modern food hall concept of food entrepreneurs experimenting with new ideas. Chomp will offer Cambodian and Chinese fare, a wine bar and artisan pizza. Jambo Cafe will have a stall, and there will be rolled ice cream; juice and smoothies; sushi; and layered cakes in Mason jars.
Chomp will be open Tuesday through Sunday — 11:30 a.m. to 7:30 p.m. on weeknights and Sunday, and 11:30 a.m. to 10 p.m. Friday and Saturday.
Chomp, and food halls in general, are ideally suited for social distancing, as flexibility is designed into the concept. They typically don't have fixed furnishings, so food halls can put out as many or as few tables as they want, said Colicchio, executive managing director at Cushman & Wakefield's Colicchio Group, which advises developers on specialty food, beverage and entertainment venues.
Under the state mandate of 25 percent indoor occupancy, only 26 customers will be allowed at one time inside Chomp. Six four-seat tables appear like scattered islands in an ocean in the open, 6,108-square-foot space, where the vendor stalls are along the windows on the courtyard.
"We have an optimal environment for safe dining with indoor and outdoor options," said Joseph, who has secured New Mexico COVID-safe certification. "We have the ability to warm up the courtyard pretty easy. You can do to-go orders."
Food halls have been around forever, but the modern phenomenon emerged in the 2000s — Cushman & Wakefield identified 28 U.S. food halls in 2010.
Cushman & Wakefield has produced the most cited food hall research since 2016, at which time the firm counted 76 food halls, a number that increased to 107 in 2017, 150 in 2018 and 209 in 2019. New Mexico entered the fray in 2020.
Sawmill Market in Old Town Albuquerque opened in March, just 10 days before the state shut down. Thousands poured through New Mexico's first food hall that week.
Sawmill reopened July 15 with the state-mandated occupancy restriction, which allows 780 people in the 11,676-square-foot outdoor patio area and 225 inside, where 18 vendors have their food offerings. The market is drawing about 500 to 600 people per day, general manager Mark Montoya said.
"We have not really pushed that limit," Montoya said, adding that customer safety is of primary importance. "It would have been rough without all the [outdoor] space we have."
Even with state-mandated occupancy limits, Sawmill Market and its tenants have brought in 90 percent of projected revenue from before the market opened, with some tenants making 120 percent of what they originally expected and some around 70 percent, Montoya said.
Sawmill customers can order at the vendor or via mobile device and be texted when an order is ready.
"What food halls offer to customers of 2020 is the ability to create your own dining experience," Montoya said. "It give us the opportunity to give as much face-to-face time as they want or as little."
Two more food halls are on the way in Albuquerque, and Santa Fe Place mall expects to put out a request for proposals early next year for its food hall concept that will be incorporated into the food court area.
"While the pandemic has certainly impacted the Santa Fe Place Market's timing, we remain committed to a food hall concept and have significantly invested in physical renovations," said Aimee Whitebear, marketing manager at Santa Fe Place.
Before COVID-19, food halls had become a magnet for first-time restaurateurs with nowhere near the budget to open a real restaurant, and they also attracted existing restaurateurs who wanted to experiment or just have a more scaled-down setting.
"Food halls are going to become the rebuilding mechanism because the startup costs are one-tenth to starting a full-service restaurant," said Garrick Brown, vice president of retail intelligence at Cushman & Wakefield. "You're going to have a lot of people in immense pain looking to rebuild."
Brown and Colicchio have been the force behind Cushman & Wakefield's expertise in food halls, closely tracking the industry since 2016. The firm has concluded food halls can survive the immediate challenges of the coronavirus and emerge as "dominant forces" in the post-pandemic world.
"The space designed for social interaction is perfect for social isolation," Brown said.
"The food hall was designed to be flexible, and the flexibility [will] save it," Colicchio added.
In the late 2010s, food halls became a solution for entrepreneurs as well as landlords facing increasing vacancies from declines in the retail sector. Food halls were an easy way to fill a lot of space.
At the same time, many restaurants in normal times operate with "profit margins [that] were razor thin entering the crisis," Colicchio and Brown wrote in their report, "The Food Hall Model: Independent Food and Beverage's Pathway to Post-COVID-19 Profitability," which they published in May.
"The independent business model was a very fragile model," Colicchio said. "If you believe 2019 was the greatest economy, more than 20 percent of restaurants failed last year. The economic model upon which the food hall is based is a solid model that will assist the restaurant industry."